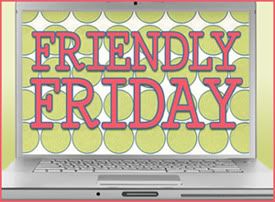 This is my first time joining the Friendly Friday blog hop! I am very excited, thank you to Karen at
The Mommy Files
for letting me know about this. The Friendly Friday celebration hosted by Christi at
Frugal Novice
, Xenia at
Thanks, Mail Carrier
and Charla at
Healthy Home Blog
! We invite you to join us every Friday to make more friends in blogville, get more blog followers and follow other great blogs out there.
To join in the Friendly Friday celebration, include your link in our list, follow the hostesses in the first 3 spots and then start blog hopping! Visit other blogs on the list and comment to give them some blog love. Then take a minute to follow them through Google Friend Connect – this is a good way to keep up with other blogs, but also lets us show support to each other!
When people comment on your blog and let you know they're a part of Friendly Friday, return the favor and follow them back. This way everyone gets traffic and followers out of participating, and it's a win-win situation. We would love for you to also grab our Friendly Friday button and post it on your blog and/or in a post – the more bloggers that find out about Friendly Friday and participate, the better!
If your visiting my blog for Friendly Friday then please take some time to look around. I currently have a giveway for some
Plum Organics from Ecomom
that ends 6/12 so hurry and enter. I also have some great coupon codes on my sidebar that you can take advantage of. And come back soon for some more great review/giveaways to come.