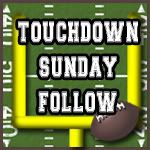 Its Sunday again and its time to link up for Touchdown Sunday Follow~
If your new here then please look around. I currently have 4 giveaways open and more to come.
Please leave me a comment so I know you stopped by and I can visit you. I would love a follow and will follow back.