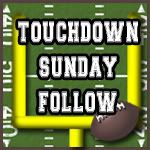 It's SUNDAY! And you know what that means.. FOOTBALL! And Touchdown Sunday Follow too~
If you want to get in on the fun then visit
Fairy Good Mommy
and link up. If your already in the fun and visiting for the first time then please look around. I hope you like what you see and become a follower. If you do then please leave me a comment so I can visit you and follow back.
Also, while you are here please take time to read and enter some of my reviews and giveaways.. there are more to come so please check back. Check my sidebar for current and upcoming reviews and giveaways.
And before I go I have to say
GO CARDINALS!!!