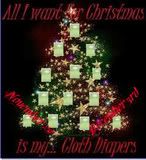 I am really excited to announce that I along with three other bloggers will be running a Christmas Cloth Diapers Event. Starting November 29th through December 3rd, the following blogs will be running a "All I want for Christmas ... is My Cloth Diapers" Event with:
Coupon Mommy of 3
The Mommy Times
Arizona Mama
Cloth Diapering Mommy
Each blogger will be running at least one cloth diaper giveaway a day if not more than one and the giveaways will only be up for 5 days and all winners will be announced on December 8th.
Please make sure that you are following all our blogs because you don't want to miss out on this Christmas Event! Just click the buttons below and leave a message for each of the bloggers telling them how excited you are!
Also make sure you are fans on facebook by clicking on the below and leaving them a note on their wall:
Are you addicted to fluff and want more? Do you have a baby that is due around Christmas time? Do you need more fluff? Well if you answered yes to the questions, then this event is for you.
As we get closer to the event, we will announce some ways to earn extra entries!