Alright so I know you guys are just as excited as we are about this All I want for Christmas Event. It is just around the corner, because remember it starts 11/29 through 12/3.
So now that it is just around ther corner it is time to start telling everyone about it and getting everyone ready for a fun and exciting event. This Christmas there is going to be lots of blogs doing lots of giveaways for cloth diapers, so be on the look out because they are out there!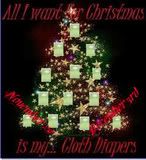 So, if you are ready to start getting some extra entries, all you need to do complete the entries on the easy to enter form:
Here is what is so cool about this awesome event though, it is the same form used by each blogger, so you enter the form once and you have entered it for all the blogs. The only thing that is required is stop by each blog and comment that you have completed the form so that we know.
You have until 11/28 to get in these extra entries.