Alright everyone ..
today
Opps got my day off.. Sunday is the last day to get your extra entries for the
All I Want For Christmas is My .... Cloth Diapers!
You don't want to miss this. I have some great sponsors lined up and so do the other 3 blogs! There are 4 blogs with a minimum of 5 giveaways each so there are at least 20 cloth diaper related giveaways that will take place between the 4 blogs in the next 5 days!! Get those entries now!!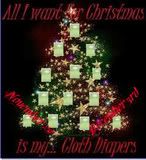 To Find out how to get entries please read the
previous post
and comment on that post. If you don't comment that you completed the form by the end of today then you will not qualify for the extra entries!
My sponsors include: