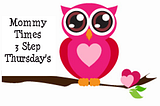 Welcome to the 4th Edition of "3 Step Thurday's" hosted by Mommy Times, and Diary of Momma! Each week we will be having blog hops for ALL three social networks, to include your blog link, Facebook, and Twitter, thus "3 Step Thursday's". It will be lots of fun and you will get to meet new people and see old friends as well! I hope that you will stop by weekly. Tweet or Facebook Share this post as often as you'd like. The more people that link up, the more follower's we will have, and it gives us new opportunities to explore new blogs!
**Guess Host Blogger is Arizona Mama. Please make sure you are following her, too!!**
Please write your blog hop post or use this one as a guide.
We kindly ask that you follow these simple requests:
1. Follow the hostesses in the first six spots(Seems like a lot but it includes all 3, so it's only the first 2 people technically=) (We will follow you back! Just please leave a comment letting us know that you are following us!)
2. Please only link up the your 3 network's(Blog GFC or Email Subscription- Facebook, and Twitter), Please also specify which you are linking up, for example, Mommy Times-Facebook, Mommy Times-Twitter.
3. No spam please. These will be removed.
4. My blog is G-Rated and family friendly, so I would appreciate if you would keep it that way. No linking back to anything x-rated, or any vulgar sites or comments.
5.Please add our 3 Step Thursday Button on your blog sidebar or in a post to help spread the word! The more people that join, the more fun it will be!
6. If someone follows you please feel free to follow them back! If you follow me and leave a comment you will be followed back!
There is a new list every Wednesday night around 10:30 PM EST(posting to get you a jump start), so please remember to come back and link up! Spread the word PLEASE!!
I could not get the linky to work for me, so please visit
The Mommy Times
to link up.