A word of caution before I begin. This post is PG, but the links are to an adult store and are not meant for children under eighteen. Please do not click on the links with children present.
Its April and what do you think of when you think April? For me I think weddings. I was married in April and I know many other couples that have chosen April to tie the knot. And just about everyone I know that has gotten married has also had a bachelorette party. I know at my own party and those of my friends everyone needs fun party favors and supplies. These items are not always easy to find. That is where
edenfantasys.com
can help out. They have some really fun party supplies to put some final touches on a fun and unique party.
For a home party these heart shaped ice cube trays would be great for party ice and can be used for future parties too.
For those of you that want to go out and bar hop, getting this fun diamond ring shot glass can be a fun accessory for the bride to be.
And no matter if your staying in out going out for the party the
Adult Mad Libs Bachelorette Bash would add to the fun. EdenFantasys also has an array of great gag gifts for the bride to be.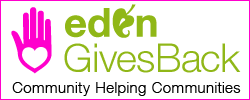 I will be compensated with a gift card in exchange for this post. All thoughts and opinions are my own and not influenced by anything.
Disclosure Policy