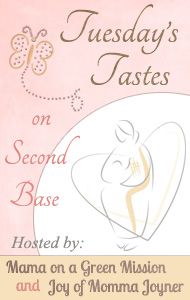 Each week April at
Mama on a Green Mission
and Courtney at
Joy of Momma Joyner
are hosting a fun post around breastfeeding. So I am going to try my best to link up weekly with them. Each week will be a different breastfeeding topic. This week the topic is 7 Week Update on Breastfeeding.
Well, baby boy is 7 weeks old today, so we have been breastfeeding for 7 weeks. It is going very well. He is getting pretty chunky so although I don't know how much he is getting I know he is getting plenty. Evan is so cute when he goes into a little milk coma. He will be done, back away half asleep and has a little milk dripping out of his mouth. I love that. It makes me feel great that I can provide for my baby. He does like to eat lots in the morning and then tapers off through the day. I have noticed that when we leave the house and do things out of the ordinary then he gets really sleepy and doesn't wake up to eat as much.
A couple weeks ago we went to my brother in laws and mother in laws new place to visit. My mother in law moved in with my brother in law who is in the beginning of a divorce and she is watching his 3 kids during the day since he is asking for custody. Anyway, we were there visiting and Evan got hungry. So I went to the couch and fed him. I didn't use a nursing cover up, but didn't hang out there. I had on a nursing shirt and his head covered most of me that was out. It was just John, MIL, and the kids at the time. So it was not indecent by any means, but you could tell he was eating. My nephew (4 years old) was very intrigued by it. He kept asking lots of questions about breastfeeding. He asked Jayden and he just said, "baby Evan eats mommy's milk." To Jayden it was not unique. But Tanner was so interested. He lifted his shirt and showed me his chest. He said I don't have any milk. I explained that only mommy's have milk. He said his mommy had big boobies, but she doesn't have milk. I explained that no she doesn't because he and his sisters are big kids and drink their milk from a cup. But when they were little she did have milk and fed them (she did for a couple weeks before switching to formula). He just kept staring and repeating his questions. I just answered his questions as honestly I could. I can't imagine his conversation with his mom or dad later, but I didn't hear anything about it. I thought it was really cute that he was so interested.
I have been pumping once (sometimes twice) a day for a few weeks now. I want to build some supply for when I return to work. Typically I pump after he goes to bed at night, but a few times I have pumped in the morning when he is extra sleepy and I feel full. I usually get around 3 oz at each pump session. That has worried me a little because I know I got much more when I had Jayden each time I pumped, but hopefully it will be enough. I know that I have been able to pump that and keep him full too so that is most important. It does seem that when I have pumped a few times he wakes up just after and wants to eat..little stinker. But lucky he is still able to get some out.
The other day Daddy gave Evan his first bottle. I wanted to have him experience a bottle and see how he does so he can be prepared for going to the sitters house and I wanted to see how much of it he would eat. Since when I breastfeed I have no idea how much he gets. It took him a little bit to understand what he was doing, but once he figured it out he ate it and was happy. I had put 3 oz in the bottle and he ate almost all of it. So that tells me that he is eating 3 oz at a time (roughly). We are using the
Tommee Tippee bottles
and I am really liking them. I had to tell John to put it all the way in his mouth so it is like he is on the breast. John was trying to have him just take the tip, but he did better when it was all the way in his mouth. Jayden even got in on it and helped feed him.
How is your breastfeeding experience going? Want to share please link up and let us know how your doing.
Read Previous Topics of:
Wet Nursing
Scheduling vs. On Demand Nursing
Breastfeeding and Jury Duty
Tandem Nursing