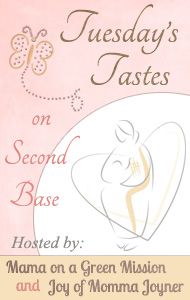 Each week April at
Mama on a Green Mission
and Courtney at
Joy of Momma Joyner
are hosting a fun post around breastfeeding. So I am going to try my best to link up weekly with them. Each week will be a different breastfeeding topic. This week the topic is Tandem Nursing.
So Tandem Nursing is when two siblings of different ages breastfeed together. So typically a baby and a toddler both nurse at the same time. Many times the toddler did not wean before baby was born or sometimes goes back to nursing after baby is born. So the question is what do I think about it... well, I think why not. If a mom is able to handle it supply wise then why not. I think it is important that there is enough for the baby that is getting his or her only nourishment comes from moms milk. But if mom's supply is enough to support the baby and another then go for it.
Now the question is would I do it? I don't really know. I guess if I was in the situation then I might. I have not had much problem with supply with either Jayden or now with Evan. But with them being 4 years apart and Jayden being weaned from breast milk soon after a year old I have not come to that in my life. So it is really hard to relate since I have not been in that situation. But I think if I had children close in age and one was still nursing when the second was born I would not stop him or her from nursing just to make room for baby. So I would probably do it. I do think it takes a very strong mama and lots of practice.
How do you feel about this topic? If your inspired and would like to join this weekly post or even if just this time please feel free to write it up on your blog and link up below. Also, follow the linky to check out how some fellow bloggers felt about this topic.
Read Previous Topics of:
Wet Nursing
Scheduling vs. On Demand Nursing
Breastfeeding and Jury Duty