It seems like a bike is always high on a child's list for what they want for Christmas. There is so much excitement when a child finds a brand new bike under the Christmas tree. That excitement can be seen even earlier with the Strider balance bike. Jayden has a Strider bike that he received a few years back. He loves his Strider, he calls it his racer bike. Strider has made some updates and improvements since Jayden received his bike.
Strider ST-3 bikes
are perfect for children as early as 18 months (sometimes younger) and up to 5 years old. Simply put if your toddler can walk then he can cruise on a Strider bike. With children this little it is important to have the right size. The Strider bike weighs less than 7 lbs. It is easy for little ones to control. They have a quick release on the handlebars and seat that make it easy to adjust as your child grows.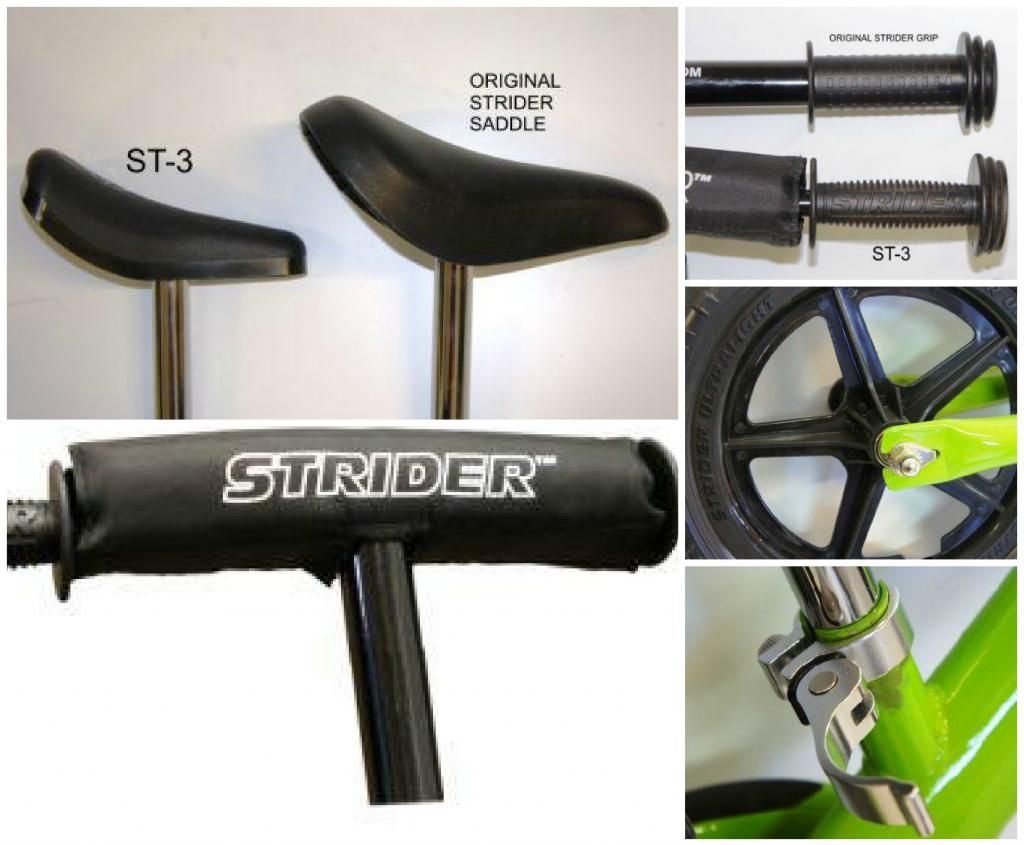 Features of the Strider ST-3:
* NEW Ultralight One-Piece Molded Wheel. It is strong, light, one piece design with proven no-flat EVA Polymer tire.
* NEW Mini-Grip Handlebar and Mini-Handgrips. The grips are 43% smaller in diameter then standard grips to better fit smaller hands.
* NEW Handlebar Pad to add protection with a cool motocross styling.
* NEW Mini-Saddle on 220mm Seat Post. It is smaller, narrower, and lighter then a typical saddle to better fit a toddler's tiny hip spacing.
* NEW Quick-Clamps on Seat and Handlebar. With an easy no tool assembly and adjustment that makes it easy to adjust for a proper fit as your child grows.
* Patented Launchpad footrests. They are unique and integrated into the frame.
Jayden when he was learning to ride his Strider and lifting his legs. Unfortunately, hubby forgot his helmet this day. Usually he is wearing his helmet and I encourage you to put a helmet on your child too.
Like I said Jayden loves his
Strider balance bike
. He started out using it by straddling the bike and just walking with it. He would walk it all over the place. Then the progressed to sitting on the seat a little as he kind of walked with it. Then before we knew it he would lift his feet more. Now he loves to go down hills and test his own balance. There is bike racing track that my brother in law found and told us about. They have bike racing for all ages, even for toddlers. The toddlers race their Strider bikes on the big track and race for a trophy every week. The race is sponsored by a local Strider dealer. After we found out about it we have taken Jayden a few times and he loves it. My nephew also goes racing there with his Strider. Yes, all the little kids in our family have a Strider bike. Jayden, Tanner, Ava, and Kayla all love their bikes and I know that Evan will love his when he is able to ride it.
Make sure you stop by
Full Time Mama
and read her review. Her son Connor also loves his Strider bike.
Buy it
:
Strider ST-3 PREbike
Thank you to Strider for sponsoring this post.
I was provided the above mentioned product for review purposes. I was not compensated in any way. All thoughts and opinions are my own and not influenced. disclosure