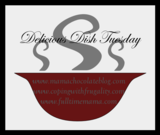 Look at me.. posting a recipe two Tuesdays in a row. I know the holidays are over and this is a very holiday recipe, but I love this stuff. And even if you don't have the candy canes you could use peppermint candy.
What you need:
1 can sweetened condensed milk
1 12oz bag of semi-sweet chocolate chips
1oz. unsweetened chocolate, chopped coarsely
1/2 tsp. (3/4 if you want more peppermint flavor) peppermint extract
2 candy canes, crushed (pounded in a ziploc bag)
1. Line a 2 qt. square casserole dish with aluminum foil and set aside.
2. In a microwaveable medium bowl, pour in the condensed milk, chocolate chips, and stir the chopped unsweetened chocolate.
3. Mix to combine.
4. Microwave for about 45 sec. (depending on the microwave) and then slowly stir the chocolate. It will melt as you stir. (if you need to put it back in the microwave, go ahead, but don't overheat chocolate- no more than another minute or so).
5. After your chocolate is melted and stirred, add the peppermint extract to taste. (just remember that a little goes a long way.)
6. Pour the chocolate mixture into the casserole dish lined in foil.
7. Sprinkle the mixture with the crushed candy canes.
8. Cover with saran wrap and let the fudge set for at least four hours or overnight. Then cut the fudge into tiny squares and carefully remove the fudge from the foil.
Store in an airtight container in the refrigerator.
(After I made these and cut them up I forgot to get a picture and now they are all gone. Sorry about that, but they look and tasty so yummy!)