Yup it has been another month... and yes I realize I am a few days late on this too. I have been sick the past few days and then with Evan getting over sick I just didn't have the time or energy to get this done. Oh my what am I going to do. My baby boy just simply can not keep growing like this. I want to keep him little and squishy.

Medical: Well, baby boy had to make his first doctor visit that was not just a monthly check up. He began coughing really deep and had a runny nose. I was thinking mostly allergies, because the cough and all is just like Jayden's. But with Jayden I have medication I can give him and I have nothing for Evan. So I made the appointment. Unfortunately our doctor was not available so we saw a different doctor in the office. The doctor was a little concerned with his cough, thinking it was croup. So he tested his oxygen level, but it was fine at 99. He did discover that Evan has a slight ear infection. He prescribed him some amoxicilin. The bad thing is that the amoxicilin has been giving him a diaper rash. So now we are using disposables so I can put cream on it. Also Evan has been crawling so quickly without looking so he has run into the wall and door jams a few times. Mostly he is tough and it doesn't phase him, but a few times he gets upset and crys.
Growth
: When we went to the doctor Evan's weight was 20 lbs even. Not sure his length, but I know he is growing like crazy.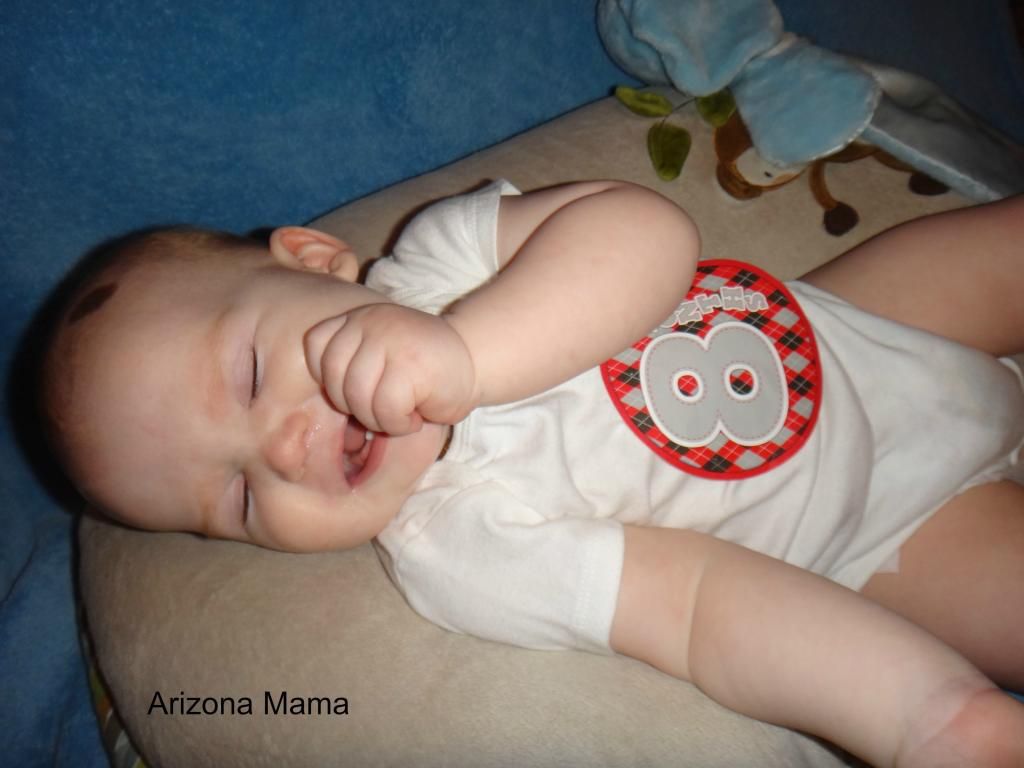 Clothing Size: Some 6 months, 6-9 months, and 9 months. He has worn a few 12 months onesies, but most are too big.
Eating:
OK so Evan continues to love his cereal, but nothing more. He loves rice cereal and oatmeal. He is so cute when he leans in to get his bites. But he won't eat anything else really. He turns up his nose and refuses to eat other things I have given him. I have tried squash, carrots, sweet potato, apples, and bananas. I have even mixed some of these and still a no go. He did eat a little of the avocado. I also gave him a piece of bread the other day and he loved that. Out with some friends from work he had half a saltine cracker and loved it. I almost wonder if he just doesn't like the texture of the purees. I will continue to try other foods and revisit those we have tried. Oh and I even gave him a few of those puffs treats and he made his yucky face and spit them out. Little stinker!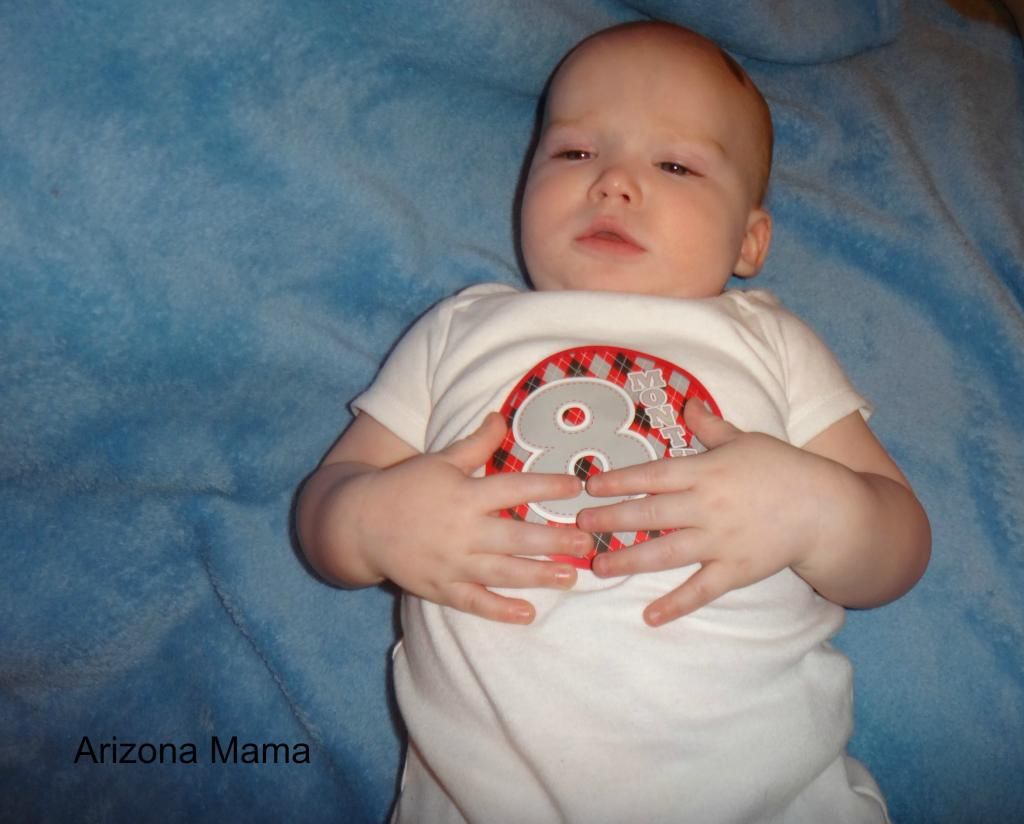 Sleeping: Evan goes down in his crib at the beginning of the night, but usually comes to my bed before too long. For a while it was early, but the last few nights his has been later and later. Evan doesn't love his crib like Jayden did so I try not to leave him in there alone for long after he wakes. I don't want him crying and associating the crib. I want waking in the crib to be happy. The last couple of nights he has slept in his crib all night and didn't wake until early morning. And he is waking happy... not crying.
New Developments: Awww more new developments. Seriously this boy needs to stop! Evan has 2 teeth now, both bottom middle. They are just too cute when he smiles. He has become a speed crawler. So much so he crawled into the corner in the hallway and got a bruise on his forehead a week ago. Evan is pulling up on everything and even more so trying to climb up on things and over. We have to constantly watch him. Just tonight he climbed up on a chair and had I not been there he would have fell forward face first into the tile. Evan is walking by holding onto his push toy. He practically jumps up, grabs on, and takes off across the room. And he is super determined to get across the room no matter what obstacles are in the way. He pushes that thing over his super mat and toys as hard as he can.
Likes
:
He loves to cuddle and to just play. He will play and play and play. He crawls everywhere and loves it. We had to put up a gate to keep him out of the kitchen and we close all the bedroom doors so he doesn't get into things. He gets SO excited to see Jayden on days Jayden goes to preschool and Evan hasn't been with him all day. Evan loves his Stride to Ride Puppy, books, balls, Elmo Fruit & Fun Booster Seat, pans, and stacking cups. He loves to take a bath and tries to put his mouth on the faucet to catch the water or puts the washcloth in his mouth.
Dislikes
: Seems to be most foods. Not sure if he doesn't like the taste or the puree texture. Getting his nose wiped. When you don't pay attention the first time he wants it. He is also displaying some separation anxiety. He doesn't like it when I put him down or leave him at the sitters or anywhere.
Words:
He babbles so much. He is making sounds like. "maa maa maa" "daa daa daa" "Naaa Naaa Naaa" and so on. He will squeal and screech too.
Jayden's Thoughts
: Jayden calls him cuddly baby. He loves to hold him, but Evan is getting too wiggly for him. Jayden is my door closer. He will run around and close the doors and he would warn us and tell us when Evan went to the tile (Even if we are watching the whole time). Jayden will wrestle around and play with Evan. Evan LOVES it and just laughs like crazy at his big brother. I have to remind Jayden to be a little more gentle.
By the end of month eight a baby typically:
(from iVillage):
Chews on objects (Always)
Reaches for utensils when being fed (yup)
Turns head away when finished eating (yup)
May sleep between 11 and 13 hours a night; takes 2 to 3 naps (may vary) (yea for the most part)
Rolls all the way around (yup)
Sits unsupported (yup)
Gets on arms and knees in crawling position (yup)
Has specific cries for various needs (yup)
Babbles enthusiastically (yup)
Tests gravity by dropping objects over edge of high chair (yup)
Responds to own name (yup)
Has different reactions for different family members (yup)
Shows some anxiety when removed from parent (yup)
Looks like Evan is already doing all the things listed above to be done by the end of this month.