I was provide the below mentioned product in exchange for my honest review.
Kolcraft recently came out with a fun new booster seat. The seat features a toddler favorite character, Elmo. The Elmo Fruits and Fun Booster Seat is great for giving your baby or
toddler a little boost. The Elmo Booster seat easily straps onto most any kitchen or dining room chair easily. It is super east to clean the seat, tray, and back. It is height adjustable to help baby get to the right height and close to the table. The tray adjusts to 3 positions for what is most comfortable for baby and to grow with baby into toddlerhood. It has a 3 point restraint to help keep baby seated and safe. There is even a little middle hump between the legs to help keep baby from sliding down and out. The booster folds for easy storage or travel. What a perfect chair to take to grandma's house for the day. The tray has a fun lenticular 3D image of Elmo for baby's entertainment.
When we received the
Elmo Fruits and Fun Booster Seat
I set it on the ground and Evan immediately crawled over to it. He kept banging on the box and trying to get inside. Once I opened the box I could tell he was excited. He was trying to get in the chair himself and he was hugging the tray.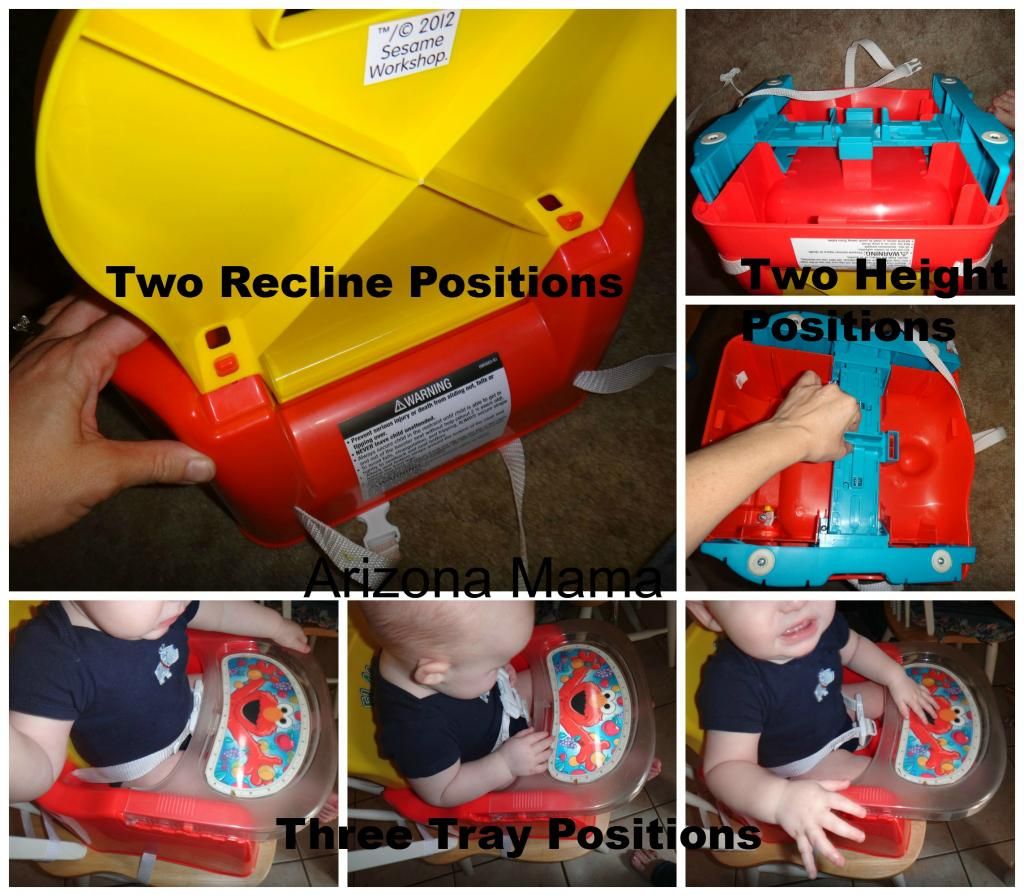 We have used the Booster seat in a few different ways. Last weekend Jayden wanted to go outside and blow bubbles so we took the booster seat for a place for Evan to sit and enjoy bubbles without mommy having to hold him or getting out a stroller. It was a perfect place to sit and play. Evan has used it on the floor in the living room to play too.
I have strapped it to a kitchen chair so Evan can be a big boy at the table. It was easy to attach and Evan was happy to join the table with everyone else. The booster chair is for up to 45 lbs and Jayden is right at that 45 lbs. I had him sit in the chair to show how it fits for him.
I really like that the tray adjusts for the best fit. By using this
booster chair
you don't have to have a big bulky high chair in your dining area. Baby can sit with the family at the table.
Buy it:
Elmo Fruits and Fun Booster Seat
Win it:
One (1) Arizona Mama reader will win an Elmo Fruits and Fun Booster Seat
Enter in the Rafflecopter form below! This giveaway will be open until 4/19 at 12:01AM (EST)
Thank you to Kolcraft for sponsoring the review & giveaway


I was provided the above mentioned product in order to provide a review. I was not compensated in any way. All thoughts and opinions are my own and not influenced. disclosure