We love salsa and anything spicy!! So when a co-worker brought in some yummy salsa to work I just had to have the recipe. It was so super easy to make. I have made it many times and it is so good. We like it spicy, but it can be adjusted if you don't. I have to thank my friend and co-worker Laurie for sharing this recipe that she came up with.
1 - can El Pato Sauce (small yellow can)
1 - can Rotel (Hot if you like it spicy)
1 - can tomato sauce (small)
1 or 2 green onions
1 clove garlic
1 jalapeno (leave in all seeds if you like hot)
1 handful of cilantro
1 Tbsp chili powder
1 tsp cumin
Juice from half a lime squeezed
salt & pepper to taste
(Optional: add some Mexican oregano) I have not added this to my salsa because I have not had any, but my friend says it adds to the flavor.
Throw all these ingredients into a blender and blend until all chopped and mixed well. I usually chop up the onions, garlic, and jalapeno before adding. Then serve with your favorite tortilla chips or anything you like salsa on.
I'd love to hear if you tried this and what you think. Do you have a favorite salsa recipe?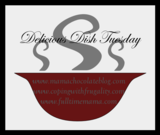 I have also linked up for Delicious Dish Tuesday. Check out
Full Time Mama
and
Coping with Frugality
for more great recipes this week and every Tuesday.