Dress up is so much fun with little ones. Costumes are not just for Halloween anymore. Working in the head start classrooms the children Love to dress up all the time. There are so many fun things to dress up as. Jayden has not been one to dress up too much other then for Halloween and even then he is picky. I was excited when Evan was game for his Halloween costume last year and could not wait for this year. So I decided to get one now and see how he will like it. Wholesale Costume Club sent me the cutest Infant Lil Puppy Costume ever!!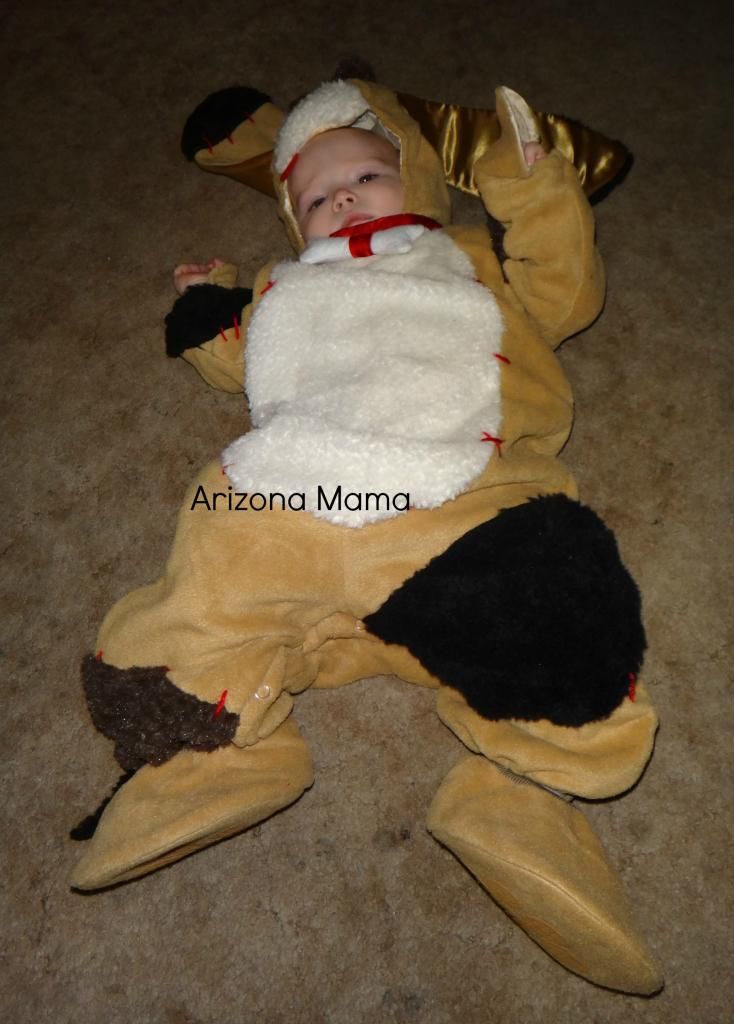 This costume is a soft plush jumper that a child can either step into or put on over head. The tan fabric is a full body with a patch of black and brown faux fur on the belly. The patches are stitched in red thread to give it more of a patchwork puppy dog look. It has snaps up both sides of the legs to help with any diaper changes as needed. It comes with a hood that has black tips on the long dog ears that are also stitched on with the same red thread. With a white puppy snout and plush brown pieces it has a shaggy look. The collar has a bone hanging onto a red ribbon wrapped around it like a collar. The tail adds to the all around look of this adorable costume. The costume has separate booties for the paws. The booties have skid resistant bottoms and are for use inside only. They don't give any real protection.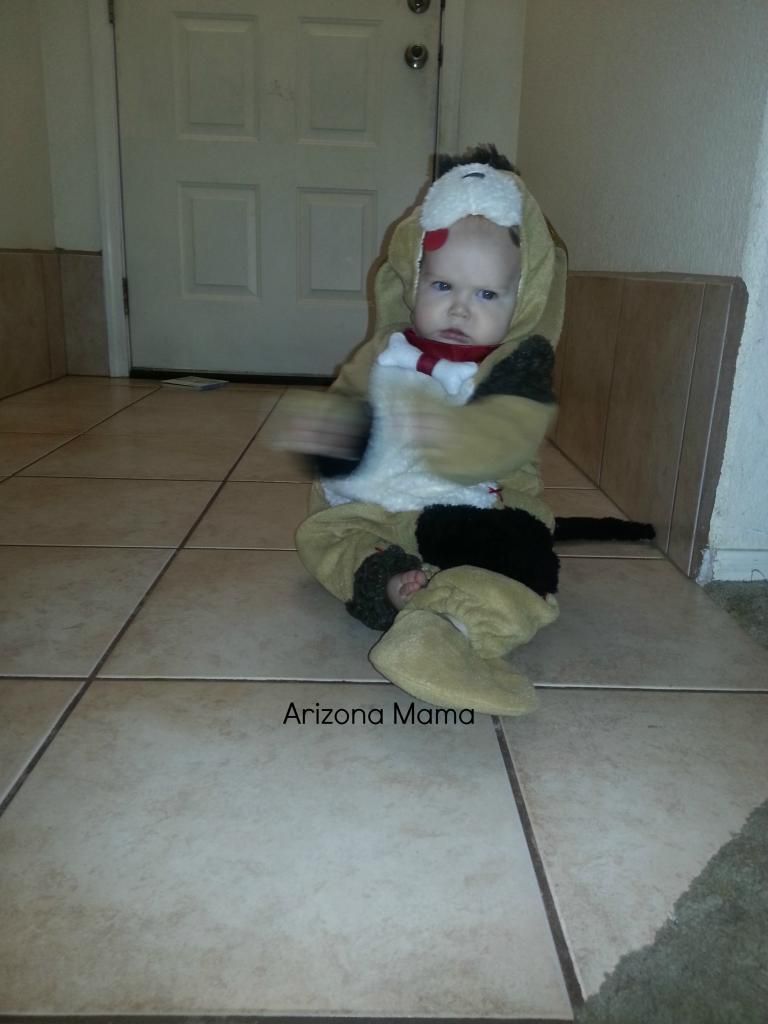 I put the costume on Evan. I ordered it big and it is big on him. I wanted there to be some room to grow and in my experience costumes can sometimes run small. When I first received this I was worried that I went way too big, but after putting it on him I realize that although it is big I don't think it too big for him to grow into by Halloween. I think it will fit great by then. Evan looks so adorable in this costume. After I put it on him he immediately wanted to crawl around making it hard for me to get some pictures. I can't wait to take him trick or treating in this adorable costume. I might even take him to get some cute photos with my friend. Now to decide what costume Jayden will wear... humm dog trainer? I don't know. I guess he needs to decide that, but hopefully its

something cute like this one.

Wholesale Costume Club has so many fun and adorable costumes for the whole family. Like I said costumes are not just for Halloween either. Themed birthday parties, random costume events, playtime

, and more.
Buy it:

Infant Lil Puppy Costume



Thank you to Wholesale Costume Club for sponsoring this review.
I was provided the above mentioned product to help facilitate this review. I was not compensated in any way. All thoughts and opinions are my own and not influenced. disclosure