I was provide the below mentioned product in exchange for my honest review.
Evan puts everything in his mouth, I mean EVERYTHING!! I am always on the look out for anything that will help his teeth feel better. But I want more then just any teether, I want something safe for him too. I had seen Suri the Octopus and friends teething toys and was immediately interested. I was happy when
Mayapple Baby
offered to send Suri for us to try.
Suri the Octopus and his friends are made with 100% food grade silicone. They are BPA free and Phthalates free. The set includes 3 pieces. All 3 characters have multiple sensory points and textures too soothe baby's gums. They are designed to reach both the front and back teeth. They are all easy for baby to grab and manipulate. They also encourage imagination with a fun marine theme. First there is Suri the Octopus. Suri is concaved shaped to fit baby's hands. Second there is the anchor. It has 6 biting sites and 3 different teething textures. And the third is the Wheel. The wheel has 12 biting sites with 2 different teething textures.
After I initially washed these teething toys I gave them to Evan. He explored them for a little bit by picking them up and turning them over and over. I encouraged him to put one in his mouth. He was a little hesitant at first. Once he put one in his month to "teeth" on he was immediately happy. He was laughing as he took it in and out of his mouth. He tried all 3 of them. He finds them all the time and immediately puts them in his mouth to chew on. He will even leave them dandling from his mouth as he crawls across the room. It is so funny to watch him crawling around with one of these teething toys in his mouth. Jayden will try to take it from him, but he keeps a tight hold and doesn't want to give up his toys. But when Jayden does get a hold of them he loves to pretend he is driving a ship with the wheel or throwing the anchor overboard. Of course I have to remind him that they belong to Evan.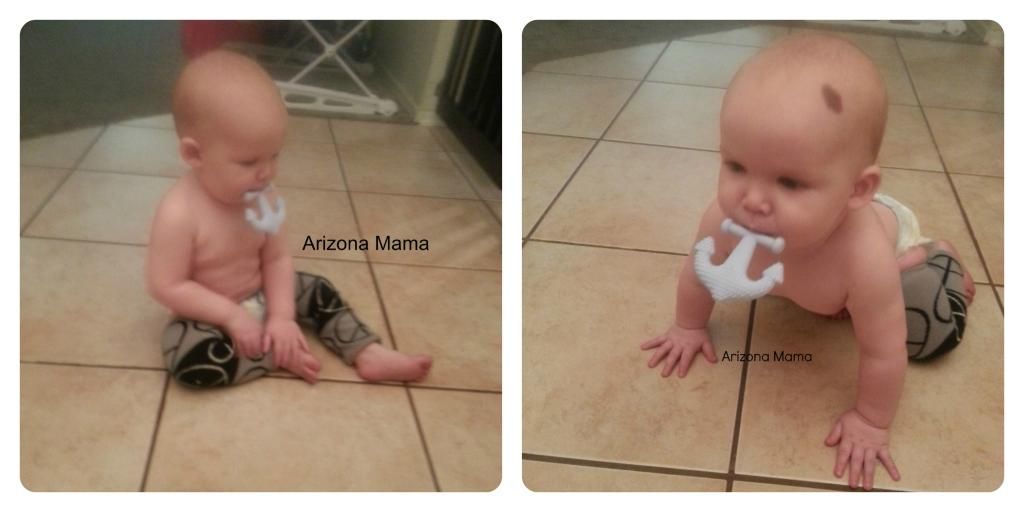 I really like that they are all 3 a great size for Evan's hands to hold and move around. I like that there are different textures to help with teething. And of course I love that they are safe for him to put in his mouth without any toxic items. These are great
teething toys
and I really think they help Evan's gums feel better when they are hurting.
Buy it
:
Mayapple Baby - Suri the Octopus and Friends Teether - 3 Teething Toys - Blueberry Set
Win it
: One (1) Arizona Mama reader will win Suri the Octopus and Friends Teether in their choice of Blueberry or Lemon
Enter in the Rafflecopter form below! This giveaway will be open until 5/31 at 12:01AM (EST)
a Rafflecopter giveaway
Thank you to Mayapple Baby for sponsoring the review & giveaway
I was provided the above mentioned product in order to provide a review. I was not compensated in any way. All thoughts and opinions are my own and not influenced. disclosure