I have to thank a co-worker for this recipe. She shared this simple recipe with me a couple weeks ago and I finally had the chance to try it. And it was great! Of course I changed it a little, because I could not find what she suggested. She said to get Pork Butt, but I could not find it.
Need:
1 NY Rump Roast
1 Can of El Pato Sauce in the green can
1 Can of El Pato Sauce in the yellow can
1/2 c. water per pound of roast.
All you have to do is put the roast in the crock pot and dump the cans of El Pato Sauce on top along with the water. Then set the crock pot.
I put the roast in frozen so I put it on high for a couple hours and then switched it to low for a couple more. You could leave it on low all day when frozen and probably even if not frozen.
Once it is complete I pulled it out of the crock pot and into a large bowl. I used a couple forks and just pulled the meat apart. I did this until it was all shredded. Then I spooned some of the juice from the crock pot over the top and mixed it in. I did this a few times until it seemed juicy, but not soaked. Then you can use the meat how you wish. I made burritos, but you can make tacos, enchiladas, sandwiches, or just about anything you want with it.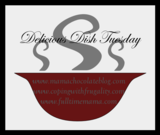 If you have any easy recipes then please share them. And by easy I mean very simple with few ingredients that go together fast. Don't forget to check out the Delicious Dish Tuesday Link up over at
Full Time Mama
.