I was provided the below mentioned products in exchange for this post.
When I am shopping for Christmas gifts I really want to find items that are not only what the kids want and fun, but I want something with some education value. I want the most bang for my buck so to say. If I'm going to spend my money on a toy I would like for it to be something that can teach my child. That is why I love Educational Insights. They have so many fun and educational products. I was recently sent the MoonScope and the AquaScope from the Nancy B's Science product line.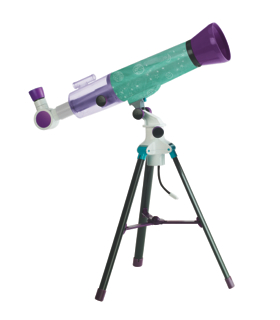 The
MoonScope
can magnify the night sky up to 90x. You can see so many amazing things in the sky like the mountains on the moon and the rings around Saturn. It comes with two all-glass eyepieces, lens cap, tripod with built in red LED light, special moon filter for looking in the dark, and a 22 page journal full of awesome astronomy activities. The MoonScope does require 2 AA batteries.
Jayden has always been fascinated by the moon and what is in the sky. Him and John have always shared time looking at the moon and talking about it. The moon and all that is in space are so interesting. There is so much unknown. While looking through the MoonScope you are able to see the stars clearer.
The
AquaScope
lets you explore underwater. You can get down and explore everything under the water like shells, algae, plankton, and any other sea creatures you can find. It magnifies up to 5X! It has three bright LED lights that illuminate even the murkiest water. You don't even have to get wet! It has a built in thermometer and ruler that are perfect for scientific investigations. The AquaScope includes an 18 page activity journal full of underwater activities including observation, data collection, creative writing, drawing, and more. The AquaScope requires 3 AAA batteries.
Directly behind our house we have a large greenbelt. And anytime it rains a lot the water collects there and can even look like a little lake, if we get enough rain. When we had our rains recently we wanted to go out and use the AquaScope to look in the water. Unfortunately the water dried up much to quickly. So we want to take it to the new park near our house. It has a lake and wanted to use the AquaScope to search underwater. Every time I go to the park I somehow forget it.
Educational Insights has so many great educational products that are fun to use. The MoonScope and the AquaScope both make learning fun and interesting.
Buy it:
Educational Insights Nancy B'S Science Club Aquascope & Underwater Activity Journal
Educational Insights Nancy B'S Science Club Moonscope & Sky Gazers Activity Journal
Win it
: Two (2) Arizona Mama readers will win a prize from Educational Insights. One (1) will win the MoonScope and one (1) will win the AquaScope.
Enter in the Giveaway Tools form below! This giveaway will be open until 12/29 at 11:59PM (MST). Open to US.
Thank you to Educational Insights sponsoring this post and giveaway
I was provided the above mentioned products in exchange for this post. I was not compensated in any way. All thoughts and opinions are my own and not influenced. disclosure