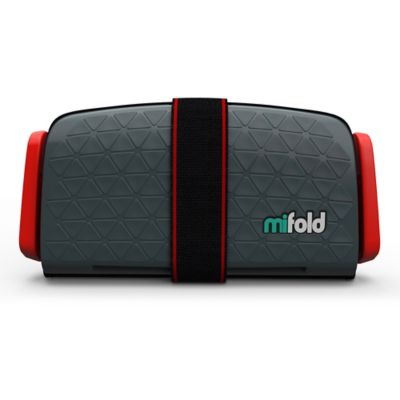 When you have kids traveling for the holidays comes with an added concern. If you plan to travel you need to think about car seat safety. We don't usually travel by plane, but I know many people do. Traveling on a plane with a child or three with their car seats or even booster seats can be difficult. They can be big and bulky to carry or difficult to check. When I saw the
mifold
I knew this was a great option for those traveling by plane. But like I said we don't often travel by plane. But I was still interested in this as often times our kids might ride in someone else's car, which also means a switch of car seats or booster seats.
The mifold works a bit differently than the average booster seat. It adjusts the adult-sized seat belt to securely fit a child. So rather than lifting a child up to fit the seat belt is pulls the belt down to fit the child. It has two red lap belt guides to hold the lap belt accurately on the hi bones. The shoulder strap and red clip aligns the chest strap with the child's shoulder. This makes the mifold very small and compact. That is why it is so convenient for holiday travel or travel anytime.


We first tried the mifold when Jayden went to sleep over at his friends house. My friend came to pick him up and this time I didn't have to pull out his big high back booster seat like I normally do. I just handed her the mifold. She was happy because she already has a car seat and booster for her two boys so adding a third is often difficult. The mifold fits easily with room. It was really easy to use and place in her car. Then after the sleep over when I went to get him all she had to do is place it in his backpack. No need to reinstall his booster back in my car. I asked Jayden what he thought and he liked it. He was comfortable and still felt safe.


The mifold says it can be used for ages 4 and up. It is designed to replace a booster seat. So if your child is currently in a booster seat it should work. I don't really feel comfortable with it that young. Evan is tall and skinny at 5 years old and I don't know if I feel as comfortable with him using it. But I think it is great for Jayden. He is 9 and still not at a point to move out of the booster seat. I really like that we have the option of the mifold for him. It will be great when he goes to his friends for sleep overs or rides in relatives cars. And of course if we were to travel by plane it will be a great for him on the plane and other modes of transportation out of town. The mifold also comes in a variety of colors and you can get a carry case for it also.
Thank you to mifold for the review opportunity.
I was provided the above mentioned products in order to provide a review. I was not compensated in any way. All thoughts and opinions are my own and not influenced. disclosure